Blind Flange Lap Joint Flange Orifice Flange Slip-On Flange
Socket Weld Flange Threaded Flange Weld Neck Flange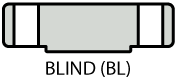 Specialty Flange and Fitting, Inc. gives you many customized options on blind flanges. These include NPT tapped holes and special threads to allow pressure test connections to be fitted. Blind flanges are generally used to blank off the ends of pipe. They are also used on similar valves and pressure vessel openings. Because they are often located at the ends of systems, these flanges often are among the highest stressed flange types. However, most of these stresses are bending types near the center, and since there is no standard inside diameter, these flanges are suitable for higher pressure temperature applications. SFF carries stainless steel and specialty alloy blind flanges. SFF also recommends trying what is known as a blind insert flange. This is a two-piece blind flange similar to a lap joint an stub-end that allows for the outer flange to rotate around the blind insert. Please contact us for details on this type of product.
Key Features:
Ideal to blank off ends of pipe, valves, and other types of pressure vessels
Specialty Flange and Fitting, Inc.'s customized machining center allows for these flanges to be drilled, NPT tapped, or threaded per your request
Suitable for a wide variety of pressure temperature environments