Specialty Flange & Fitting
Specialty Flange & Fitting, Inc. (SFF) is a wholesaler of stainless steel and specialty alloy pipe, valves, and fittings. We sell to a wide variety of industrial distributors and other types of customers who service the pipe, valve, and fitting (PVF) industry. Our company has successfully serviced this industry for over 25 years.
Pipe, Valves, and Fittings (PVF)
Specialty Flange & Fitting (SFF) sells a variety of flange, fitting, and valve types that range in nominal sizes from 1/2" up to 72" and weight classes that range from 150# (lbs.) to 2,500# (lbs.). At SFF, we offer both domestic and imported grades of material to give you options when budgeting your respective project. Besides various grades of stainless steel (316/316L, 304/304L, etc.), we maintain a multi-million dollar inventory of Alloy 20, Duplex Alloys, Nickel Alloys such as various grades of Hastelloy (C276, C22), Aluminum, Chrome Moly, and almost any other machineable alloy. Some items we specialize in are:
Pipe from 1/4" to 36" diameter, from schedule 10 to XXS, in all grades of material
Plug, ball, gate, globe, check, and butterfly valves in all grades of material
We specialize in metric and hard to find items
Orifice flanges with plates if needed
RTJ (Ring Type Joint) facing
Reducing flanges with hubs
API, MSS, AWWA
Spectacle blinds
Long weld neck flanges
Metric flanges and spacers
Large OD (Outside Diameter) flanges
Plate flanges
Standard slip-on, blind, weld neck, socket weld, threaded, and lap joint flanges - one of the country's best inventories!
Mission
Our mission, for over 25 years, has been to serve the PVF industry with a quality product at an affordable price. We strive to mix our extraordinary work ethic, with our creativity and product knowledge, to meet the growing demands of today's global business environment.
Reference Sheets
Download the following Specialty Flange and Fitting Pipe Schedule and Weights and Material Specification reference sheets...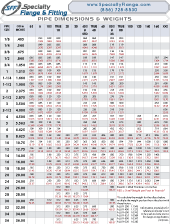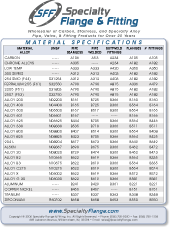 Flange Product Sheets
Download the PDF documents below for some of the flange products we offer. In addition, SSF offers a full line of PVF stainless and specialty alloy products. Call today at
(856) 728-8530 for more details!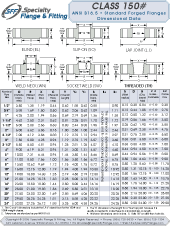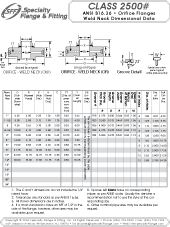 What makes SFF stand-out from other PVF sources on the market? The answer is customized choices. SFF has fully integrated CNC machinery and other manufacturing equipment to meet the customized demands of today's consumer. Our machine shop also specializes in same day emergency shutdown service.